MASONS HVAC & REMODEL SERVICES • 7101-B Dan Jean Dr. • Austin, TX 78745 • 512.845.9702 - team@masonshvac.com - TACLB57052E
Residential & Commercial HVAC & Remodel Services serving Austin Texas and surrounding metro communities.

MASONS HVAC & REMODEL SERVICES

The Heating & Cooling Experts - "We keep your systems flowing!"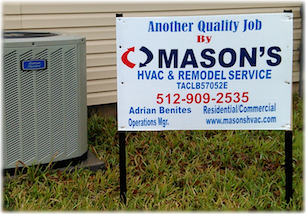 Masons is proud to share their satisfied customer encounters of their newly formed business for their air conditioning and heating services for new installs and repairs along with their wide array of remodeling services offered.

We highly value our customers input thoughts toward our HVAC and Remodel services as serving residential and commercial customers helps us to better understand customer needs and how we can continue to improve our services.

Thank you to all our customers who have provided us their candid responses through video interviews and write-ins. We appreciate and value our clientele and are very pleased in having the opportunity to serve you now and in the future!


Masons air conditioning and heating have been helping me with my ac and heating needs and they have been super fantastic. It is not triple AAA, it is 5A, they are the best! I am 75 years old and I'm a retired Air Force and a retired Tax Examiner at the IRS and these people have been so fair to me and so professional to me and my wife. -Sam, Austin Texas




Nadia, Austin Texas (english)




Murry, Austin Texas (english)




Mike, Austin Texas (english)




Anita, Austin Texas (english)




Angie, Austin Texas (english)




Avel, Austin Texas (spanish)




Wally, Austin Texas (english)
| | | | | |
| --- | --- | --- | --- | --- |
| Resource logos link to respective public websites providing manufacturer equipment, government programs, tax credits and incentives info. | | | | |
7101-B Dan Jean Dr. - Austin, Texas 78745
512.845.9702 • team@masonshvac.com
Texas Contractor License TACLB57052E - insured & bonded

dtp & design by TechLand Creations